The Low Voltage began as the solo project of former Starboard Morning frontman Colin Simpson. The debut EP 'Hold It Together' was written in the uncertainty of a new life; the songs reflecting a major life shift after moving from Eugene, Oregon to Ann Arbor, Michigan. Without a band, and without the comfort of dearest friends, The Low Voltage slowly emerged from a guitar, a haunting voice, and a kick drum.

In 2012 the addition of the gorgeous harmonies of Emily Fox brought entirely new possibilities to the project. They immediately began recording their first EP 'Hold It Together', and began performing live and writing new music together. However, after four years of playing shows and recording music, Emily followed the wind of adventure and opportunity and moved to Seattle, WA. Before she left, Colin and Emily recorded the basis to their newly released album, 'The Night Is Young'

Evoking images of promise and loss, both heartbroken and hopeful, the earnest songs of The Low Voltage radiate like a warm glass of brandy in a candle-lit room.
---
Powered by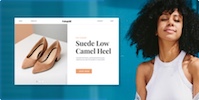 Create your own unique website with customizable templates.